1. The project
Objective
The project aims to replace and improve the merchandising application for usual consuming goods. This application is used by a merchandising team composed of ten people within the French retailer group MONOPRIX which is principally present in France in the Town centers of the most important cities.
The application allows the elaboration of recommendation files for the products' presentation on the shelves in the 250 stores of the Group.
By acquiring a more advanced tool, the company wants to reduce costs linked to the elaboration process of recommendations files. The company wants to increase the productivity by limiting the human intervention and by reducing the process time.
Teams
Several teams are implicated in the elaboration of recommendations files. The merchandising team works on these files in collaboration with the purchase team, the marketing team, suppliers and the sales team.
Upstream, the purchase office defines the collections of products. The marketing team provides a strategy and suppliers make propositions regarding the presentation of their products.
Downstream, the merchandising team organizes the product presentation and the sales team uses the recommendations files.
At the end of the process, the merchandising team works closely with the suppliers who give the pictures and characteristics of their products.
Background
The schema below shows the position of the Merchandising application among the different teams, the others applications and the corresponding part of the central system.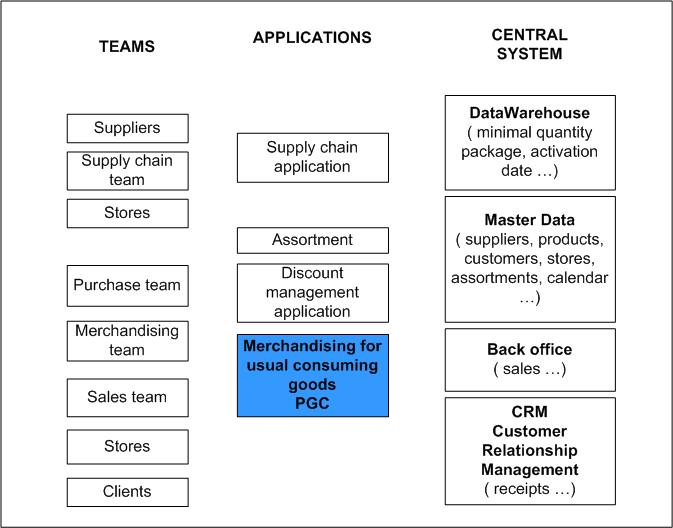 Figure 1: Global vision of teams, applications and central system
Thesis subject
The thesis subject is "The realisation of a Merchandising Project". The Merchandising itself is not the principal topic. We will go further into the technical aspects than the functional aspects and the approach following to complete successfully the project will be presented.
We will deal with the following issues:
The project management




The way to integrate a software solution into a heterogeneous information system.




The technological choices concerning the WEB and the development tools, as well as the reasons of the choices.




The WEB architecture choice and the validation of the target architecture.




The Merchandising project will allow us to illustrate these four issues.
The objective is not to display in its slightest details all the issues linked to the project, but to bring some elements of solution with this concrete case.
Furthermore, the thesis objective is not to deal with all the issues exhaustively but to focus on the different subjects we work on during the project and our approach to satisfy the user's needs. With the dead lines and the project constraints, it's nearly impossible to have a deep knowledge of all the technologies and software that we use during the project.
The most important thing for us is to understand the advantage of each tool and to use them as simply as possible. Thus, the project remains adaptable and does not require important expenses for the application's maintenance.